In May 2020, much of the world was still in the grip of the first wave of the COVID-19 pandemic. When we surveyed senior supply-chain executives from across industries and geographies, 93 percent of respondents told us that they intended to make their supply chains far more flexible, agile, and resilient.
Twelve months later, in the second quarter of 2021, we repeated our survey with a similarly diverse group of supply-chain leaders. This time, we asked respondents to describe the steps they had taken to shore up their supply chains over the past year, how those changes compared with the plans they drew up earlier in the crisis, and how they expect their supply chains to further evolve in the coming months and years.
It's quicker to build inventories than factories
In our 2020 survey, just over three-quarters of respondents told us they planned to improve resilience through physical changes to their supply-chain footprints. By this year, an overwhelming majority (92 percent) said that they had done so.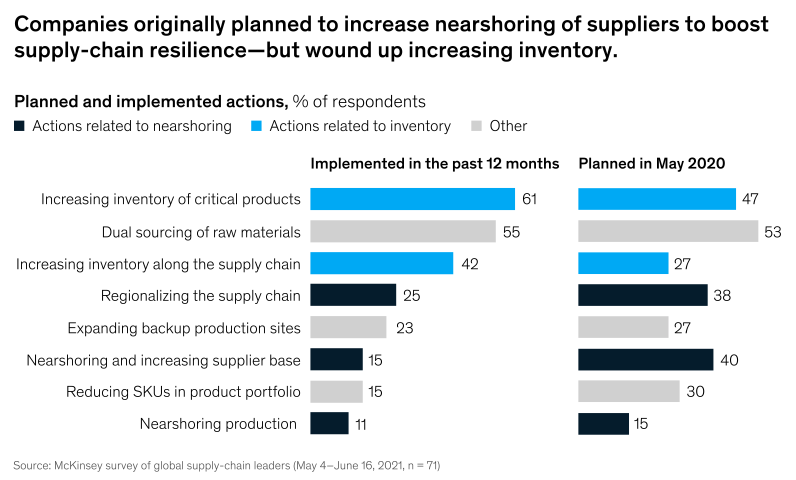 Different industries have responded to the resilience challenge in markedly different ways. Healthcare players stand out as resilience leaders. They applied the broadest range of measures, with 60 percent of healthcare respondents saying they had regionalized their supply chains and 33 percent having moved production closer to end markets. By contrast, only 22 percent of automotive, aerospace, and defense players had regionalized production, even though more than three-quarters of them prioritized this approach in their answers to the 2020 survey. Chemicals and commodity players made the smallest overall changes to their supply-chain footprints during the past year.
Despite these challenges, regionalization remains a priority for most companies. Almost 90 percent of respondents told us that they expect to pursue some degree of regionalization during the next three years, and 100 percent of respondents from both the healthcare and the engineering, construction, and infrastructure sectors said the approach was relevant to their sector.
Risk management: More breadth, not enough depth
The pandemic pushed risk to the top of virtually every corporate agenda. For the first time, most respondents (95 percent) say they have formal supply-chain risk-management processes. A further 59 percent of companies say they have adopted new supply-chain risk management-practices over the past 12 months. A small minority (4 percent) set up a new risk-management function from scratch, but most respondents say they have strengthened existing capabilities. Supply-chain planning: A test for technology and organization
The transition to remote working was one of the most immediate and pronounced effects of pandemic-era restrictions on mobility and access to workplaces. Broadly, respondents to our survey believe they managed that transition well, with 58 percent reporting good supply-chain-planning performance over the past year. The remaining 42 percent of respondents told us that remote working had led to delays in supply-chain decision making.
Digitization surges but could tail off
With so much interest in advanced analytics, it comes as little surprise that the crisis has been a catalyst for further digitization of end-to-end supply-chain processes. An overwhelming majority of survey respondents say they have invested in digital supply-chain technologies during the past year, with most investing more than they originally planned.
Today's ongoing and planned digitization efforts are most likely to focus on visibility, as companies strive for a better picture of their supply chains' real-time performance.
Talent remains a major barrier to accelerated digitization, however, and the skills gap is widening. In our 2020 survey, only 10 percent of companies said they had sufficient in-house digital talent. And by this year, that figure had dropped dramatically, to only 1 percent. Respondents report a range of ongoing actions to address the digital-skills gap, including reskilling (55 percent) or redeploying (30 percent) existing staff, hiring new talent from the labor market (52 percent), and taking on specialist contract staff for specific projects (21 percent).
Next steps: Supply chains at an inflection point
The COVID-19 crisis put supply chains into the spotlight. Yet despite that progress, other recent events have shown that supply chains remain vulnerable to shocks and disruptions, with many sectors currently wrestling to overcome supply-side shortages and logistics-capacity constraints. Most worryingly, these new problems are emerging just as senior leaders are turning their attention away from supply-chain issues. In many sectors, there are signs that the rate of investment in digital supply-chain technologies is slowing down. Talent gaps are wider than ever, end-to-end transparency remains elusive, and progress toward more localized, flexible supply-chain structures has been slower than anticipated.
The coming months could turn out to be critical for supply-chain leaders. Some companies will build upon the momentum they gained during the pandemic, with decisive action to adapt their supply-chain footprint, modernize their technologies, and build their capabilities. Others may slip back, reverting to old ways of working that leave them struggling to compete with their more agile competitors on cost or service, and still vulnerable to shocks and disruptions.