Since its advent in the early 17th century, the rail industry has continued gaining steam around the world — especially when it comes to moving cargo. More than 400 billion tonne-kilometers of rail cargo was moved in the European Union in 2017 alone, and that movement won't slow down anytime soon: The global market volume for railway technology is expected to reach an average annual value of €185 billion between 2019 and 2021. But even though the industry continues to boom, rail cargo is surprisingly still stuck far behind its peers in road freight, maritime shipping, and air cargo when it comes to autonomy and digitalization. With the ability to move one-tonne over 500 miles using just one gallon of diesel fuel, rail is one of the most environmentally friendly means of transport for both passengers and goods — so why isn't it capitalizing on that potential with new tech?
While trucks and air cargo have found ways to autonomize many aspects like autopilot systems rather quickly, there are still almost no autonomous trains on the market — a puzzling fact, considering it should be much easier to design an autonomous train than a self-driving car. New means for this autonomization in rail have already become possible — in 2018, the Australian mining company Rio Tinto used its high-tech train to complete the first fully autonomous cargo delivery, carrying roughly 28,000 tonnes of iron ore across 280 kilometers. But while projects like these are popping up here and there, it's clear to see that they still aren't being implemented on an industry-wide level. There are plenty of areas in which rail can improve: Autonomy can be explored with modern technology like positive train control systems (PTC), which allows trains to be monitored and stopped remotely, and trip optimizer systems that optimize fuel consumption are also now available. There are also opportunities to further improve fuel efficiency through hybrid locomotives and/or hybrid fuel cells, and designing rail assets differently has the potential to cut operational and maintenance costs.
Thankfully, it looks like rail cargo may finally be getting these modern updates it desperately needs. Countries like France, Germany, and Australia are all aiming to make their train networks autonomous in the next few years, and Transparency Market Research says the market for autonomous trains will grow at a CAGR of 12.70% by 2025. Meanwhile, Communication Based Train Control (CBTC) technology is becoming frequently used in the early-stage autonomous train market by placing signaling technology in metros and light rails across the globe. All of this technology and more is being embraced by several new rail cargo and logistics startups who have recognized the opportunity for tech in rail.
Climb aboard to learn about some of the most exciting rail cargo startups working to modernize the industry:
Perpetuum
Perpetuum represents one of the award-winning rail cargo startups and it synthesizes on-board real-time data and metrics into high-level dashboards, alerts to highlight trends, and enables maintenance engineers, and managers to monitor the operational performance of their rolling stock and linear assets. All of these tools are combined to help make the most informed operational and strategic decisions when needed. One of its biggest differentiators is its dedicated vibration knowledge for railway assets, particularly around the bogie and wheel/rail interface — offering power and information from vibration. Its self-powered wireless sensors also ensure no wires, no batteries, and no maintenance.
Perpetuum already has projects around the world in Europe, Asia-Pacific, and North America, and just landed its first contract in the Middle East earlier this year on Saudi Arabia's 1,250-kilometre line linking Riyadh with Qurrayat. Thanks to its self-powered, sustainable design, Perpetuum has won the Modern Railways' «Innovation of the Year — Industry Partnership» prize both in 2014 and again in 2016.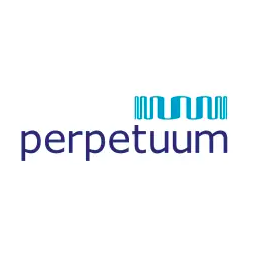 Company: Perpetuum
Founders: John Tudor, Neil White, Nick Harris, Steve Beeby
Launch: 2004
Headquarters: Southampton, UK
Social Media: Twitter, LinkedIn
Website: www.perpetuum.com
RailWatch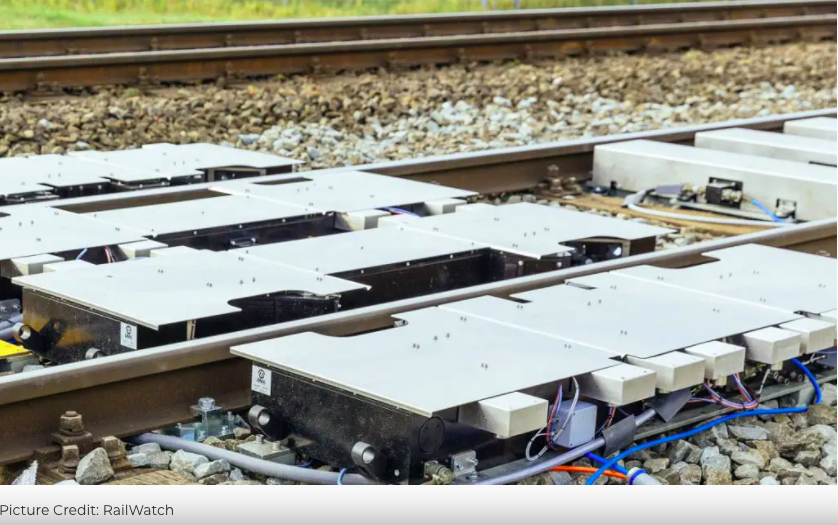 Picture Credit: RailWatch
Train maintenance can be one of the costliest and most tedious processes of a rail line. According to German one of German rail cargo startups RailWatch, 30% of all components are replaced too early, which can cost companies way more than necessary. RailWatch is changing this with its railway monitoring system, which mounts sensors along a rail and uses selected sensors to capture a variety of parameters of freight cars and locomotives.
The modules of the measuring station scan the train autonomously and during transit. RailWatch provides all relevant information on the technical condition of locomotives and wagons. Wear trends are calculated down to the smallest detail, making it easy to plan repairs and maintenance. Additionally, RailWatch is partnering with RWTH Aachen University to develop new condition-based maintenance guidelines, which they foresee becoming the norm for the maintenance of freight wagons in the future.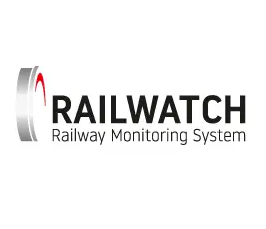 Company: RailWatch
Founders: Michael Breuer
Launch: 2016
Headquarters: Bonn-Bad Godesberg, Germany
Social Media: Facebook, LinkedIn
Website: www.rail-watch.com
Traxens
Traxens is a supply chain visibility company helping to implement IoT technology in freight rail operations around the globe, in addition to solutions which consolidate, secure and accelerate brake safety testing. Traxens enables local interconnection of different devices without wiring, thus opening up new opportunities in train condition and composition monitoring and improving overall rail operations.
In July 2019, the startup closed a Series C funding round worth close to €20M ($22.7M) to expand its operations worldwide, with a focus on Asia. The company has already partnered with CFL Multimodal, the New Silk Road and SNCF Logistics to develop its «digital freight trains.» According to a statement by SNCF, «A majority of shippers say they are willing to resort to more rail freight if certain criteria such as real-time data and on-time deliveries are better taken into account — which would be guaranteed with future digital freight trains.» If that statement is true, it looks like Traxen could breathe new life into the rail industry.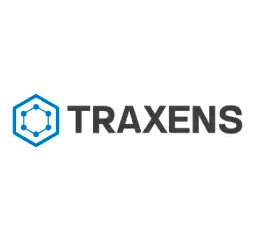 Company: Traxens
Founders: Michel Fallah
Launch: 2012
Headquarters: Marseilles, France
Social Media: LinkedIn, Twitter
Website: www.traxens.com
Cogniac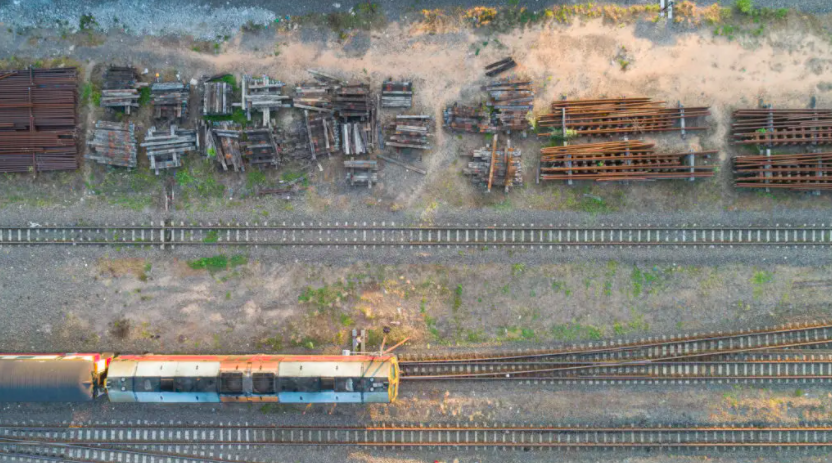 Cogniac is amidst rail cargo startups offering rail companies an AI-based software platform for deep learning, which automates visual inspection tasks carried out by humans to a human-level accuracy. The platform enables customers to extract information from ever-increasing streams of video and image data. Its system can automatically observe images and video and detect items.
According to its senior vice president for global sales, Vahan Tchakerian, «Our system is smart enough that when it sees something new, or a better way of doing things, it builds a new model.»
In 2018, the startup was selected to participate in the Plug and Play Supply Chain and Logistics accelerator program. Since then, Cogniac has landed two contracts with two Class 1 railways in the United States and a Mexican client in the last year and is now targeting the European and Asian markets as well. Cogniac also wants to help the American Association of Railroads reshape the future of rail regulations based on AI software.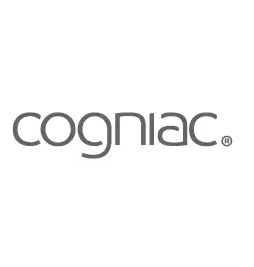 Company: Cogniac
Founders: Amy Wang, Bill Kish
Launch: 2015
Headquarters: San Jose, California, USA
Social Media: LinkedIn
Website: www.cogniac.co
Konux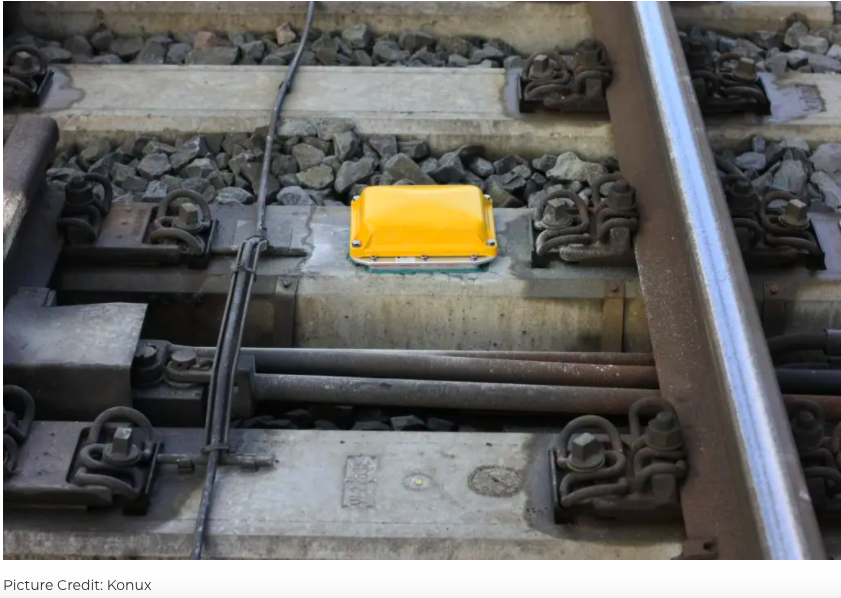 Picture Credit: Konux
Until now, the monitoring of rail safety has always been done manually by humans, leaving room for human error and at times, putting those workers in harm's way. But a few years ago, it was discovered that when a machine is functioning correctly, it produces a particular type of vibration. This means that by monitoring machines and rails for abnormal vibrations, one can detect faults before they even happen.
Konux, one of German rail cargo startups is bringing this exact technology to the rail market with its fully functioning sensor device, which can predict mechanical malfunction using that same kind of AI-based vibration monitoring. The startup is currently digitizing Deutsche Bahn's high-speed rail network through condition monitoring of switches, the most critical part of the railway infrastructure, enabling DB to significantly reduce inspection and maintenance costs and improve operational efficiency.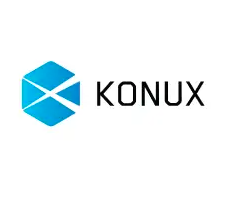 Company: Konux
Founders: Andreas Kunze, Dennis Humhal, Vlad Lata
Launch: 2014
Headquarters: Hamburg, Germany
Social Media Facebook, LinkedIn, Twitter
Website: www.konux.com
Delphi Sonic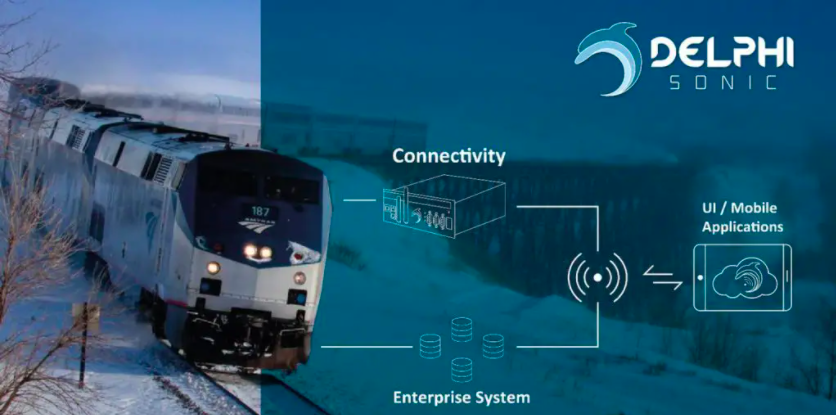 Delphi Sonic is one of Turkish rail cargo startups that has developed predictive maintenance and real-time railway monitoring solution, using the Internet of Things (IoT) to remotely monitor railways, quickly convert large amounts of data to facility management, and immediately detect facility abnormalities. The solution, which offers both hardware and cloud software, improves railway efficiency, increases cost savings, reduces maintenance time-cost, and enhance travel safety.
Delphi Sonic has formed big-name partnerships, including one with GE Turkey to connect its system to GE's Predix (the industrial IoT platform), and another with Microsoft to connect to Azure, the cloud-based software. Its client list already includes 20 companies, including the TCDD, National Railroad Passenger Corporation, Amtrak, DB Bahn, SBB Cargo, to name a few.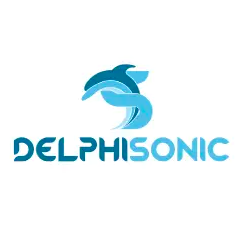 Company: Delphi Sonic
Founders: Ali Acur
Launch: 2012
Headquarters: Istanbul, Turkey
Social Media: Facebook, Twitter, LinkedIn
Website: www.delphisonic.com
IVM Tech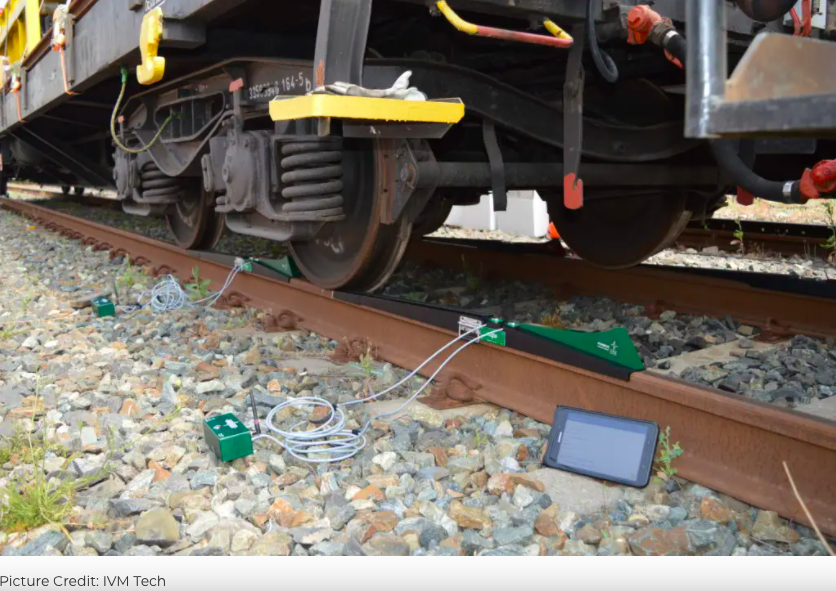 Picture Credit: IVM Tech
Out of this list of rail cargo startups, yet another company focused on innovative vibration monitoring solutions, IVM, differentiates itself by focusing intensely on the wheel-rail interaction, one of the most complex areas of rail monitoring. Because it generates mechanical stresses on the rails and rolling stock, and those stresses are not easily decomposable in the form of single separated effects, IVM is convinced that multiple measuring points are required and each of them needs to sample data at high frequency.
Modern technologies allow the adoption of multiple sensors to increase the available data, but IVM's integrated and holistic vision seeks to increase the informative content of the monitored phenomenon in order to extract the deep and hidden behaviors of the wheel-rail interaction. IVM has developed algorithms and cloud infrastructures to manage such complexity, by using modern Big Data technologies and machine learning techniques. This is done internally by highly skilled resources and it is made possible by the investment of around 30% of its resources in R&D activities.
Company: IVM Tech
Founders: Francesco Mannara
Launch: 2014
Headquarters: Naples, Italy
Social Media: LinkedIn, Twitter
Website: www.ivmtech.it/en
Rail Vision
Since the average stopping distance of a train moving at high speed is 800-1,200 meters, detecting obstacles in advance is very important for reducing the number of accidents and casualties in global railway activity. That's why Rail Vision, the Israel-based automated early warning system to prevent accidents, is working to provide cutting-edge cognitive vision sensor technology and safety systems for the railway industry. Its solutions include detection and classification of objects or obstacles (e.g. humans, vehicles, signals), rail path recognition (i.e. switch state detection), distance measurement and opportunity infrastructure condition monitoring.
The Rail Vision system is designed to warn locomotive drivers about obstacles on the railway tracks in any weather and lighting conditions, using special cameras to identify objects. With its technology, the company has already found opportunities within the EU rail market through trial runs with Deutsche-Bahn and Trenitalia. The company has also raised $10 million (€8.95 million) from Knorr-Bremse AG, a German manufacturer, in a corporate investment round.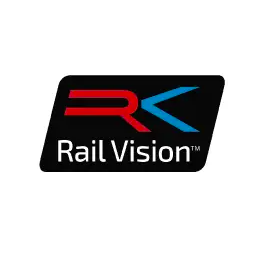 Company: Rail Vision
Founders: Elen Katz
Launch: 2015
Headquarters: Ra'anana, Israel
Social Media: LinkedIn, Facebook
Website: www.railvision.io
Nexxiot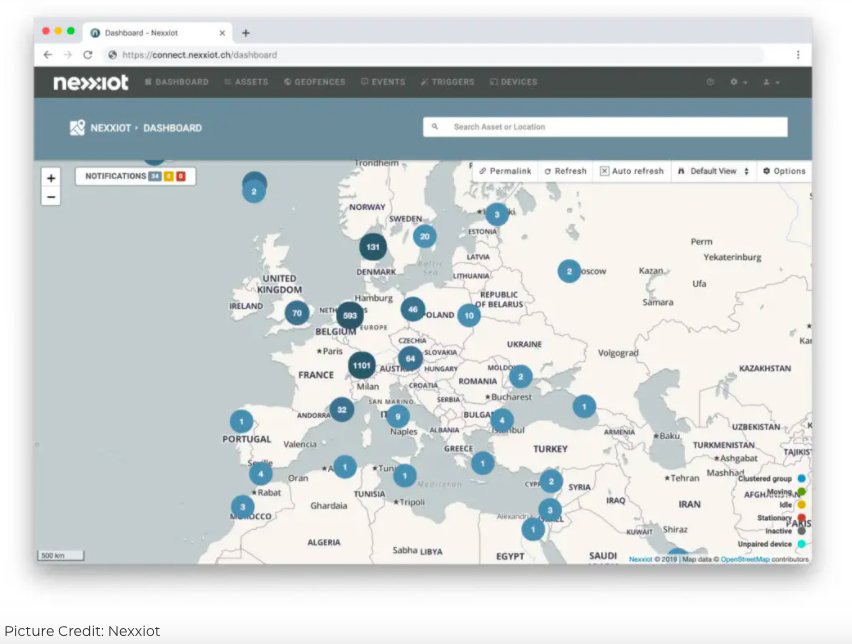 Picture Credit: Nexxiot
Since spinning off from ETH Zürich, one of the world's top technical universities, Nexxiot quickly became one of Europe's leading providers of integrated digital supply chain solutions. Today, it equips fleets of logistics assets such as railway wagons and cargo containers with proprietary low-power sensors. These sensors provide raw data on location, movement, physical shock, and other parameters in near-real-time. It integrates with analytics platforms to generate business-relevant complex events and communicates with them «machine-to-machine» with the clients' systems.
Nexxiot's Globehopper smart sensor modules use enhanced GPS technology to track and trace assets and allow near-real-time rail fleet management based on asset availability and position. It also offers packages that do automatic maintenance scheduling, shock monitoring, and trip management and notifications. The company raised CHF 35 million from DiaMedCare AG to launch a new generation of IoT sensors.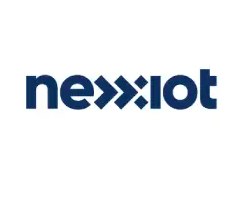 Company: Nexxiot
Founders: Manuel Davy
Launch: 2008
Headquarters: Zürich, Switzerland
Social Media: Twitter, LinkedIn
Website: www.nexxiot.com
ReVibe Energy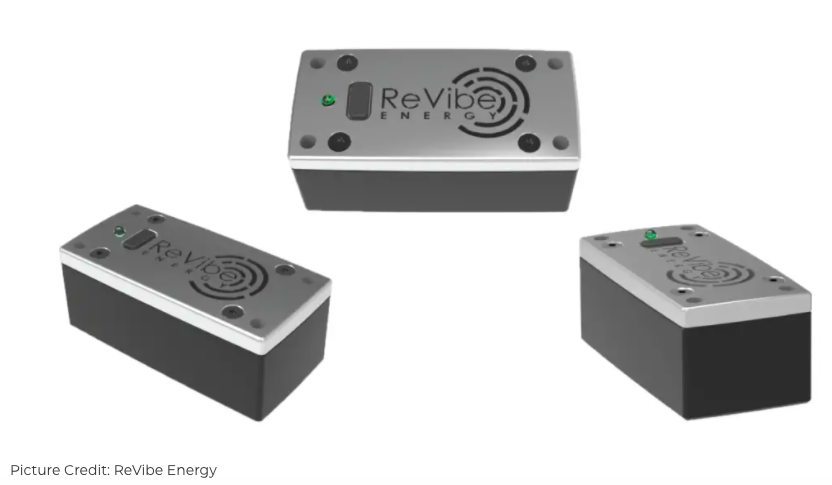 Picture Credit: ReVibe Energy
As more railway operators realize the power of using vibration technology to monitor rail safety, they're beginning to use more of the initial battery-powered devices and data loggers. Unfortunately, many of these devices often run out of battery or memory before an operator can complete their measurements, thus cutting short the data log and forcing operators to start over.
Seeing this need for a better way to capture vibrations, ReVibe Energy designed a wireless data logger device called the ReLog, with a sampling frequency of up to 25,000 Hz in all three axes and 72 hours' battery life at full performance. Its unique vibration energy harvesting technology has caught the eyes of many in the industry, garnering nearly $1 million in three Series A funding rounds and being named one of Sweden's 10 hottest IoT companies in 2017.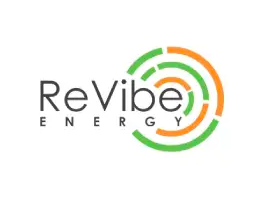 Company: ReVibe Energy
Founders: Erik Godtman Kling, Viktor Börjesson
Launch: 2014
Headquarters: Gothenburg, Sweden
Social Media: LinkedIn, Twitter
Website: www.revibeenergy.com