Space was «almost fully booked» for trains heading out of China in the first two weeks of March, according to a customer advisory from Bollore Logistics Tuesday, with increasingly tight space being seen across the westbound rail network. Other logistics providers, including DHL Global Forwarding, tell JOC.com more shipments that traditionally moved via cheaper ocean shipping are now being booked for faster but more expensive rail services.

«We have increased the frequency of our own DHL block trains between China and Europe, prepared additional capacities on westbound and eastbound routes, and see good utilization. So far, we can handle the volume, but we also see that there is still uncertainty of cargo readiness dates,» Thomas Kowitzki, DHL Global Forwarding head of China rail and multimodal Europe, told JOC.com.

Carriers have withdrawn up to 60 percent of Asia—Europe capacity, according to Alphaliner, leaving shippers with urgent cargo needs having no option but to use air or rail to move the goods from China to Europe. With all passenger flights suspended between China and Europe, and soaring prices for air charter freighter space, shippers quickly turned to rail.

'Stepping into the breach'
Kowitzki said as more factories in China reopened, he expected the space needs of customers to increase. With available rail capacity on the China-Europe network likely to come under pressure over the next few weeks, he said DHL would engage in continuous dialogue with customers over their forecasts.

Andre Wheeler, a logistics consultant, said rail transport had «stepped into the breach» to get products to market in Europe following the cutting of ocean capacity.

«With the manufacturing decline in China, only smaller product batches are available as China tries to keep global supply functional, and smaller batches reduce the need for large container loads,» he said.

But the rising demand for rail on the China-Europe network in the coronavirus-impacted first quarter follows on from 2019, when two-way volume almost doubled year over year, growing 98 percent to about 725,000 TEU, according to Wheeler. He said official figures were hard to come by, but his numbers were sourced from China Railways, which controls the China-Europe network. Data from the EDB Centre for Integration Studies also show similar volume levels.

Trade balance improving

In addition to the doubling of volume, there was also a significant improvement in the import-export trade balance of rail freight between China and Europe in 2019 compared with 2018. In 2019, Wheeler said 57 percent of the cargo moving by rail comprised westbound trade out of China, with eastbound cargo having a 43 percent share, down from a 64 percent westbound share in 2018.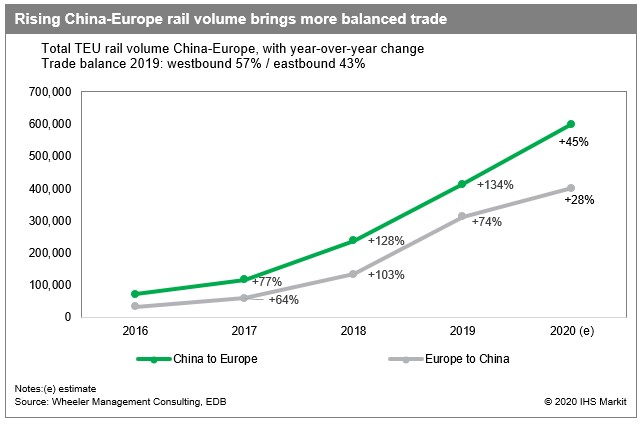 Kowitzki said 8,500 block trains were operated in 2019 in both directions between China and Europe, with each train carrying about 82 TEU, but «a consistent official data source we have not yet identified.»

Wheeler said the improving trade balance could trigger an end to Chinese subsidies of the cost of operating freight trains on the network earlier than the 2022 target set by Beijing.

«The central government is still committed to eliminating all subsidies by 2022. I have heard that this will happen once rail volume reaches 1.5 million TEU a year,» he told JOC.com. «There is a push to reduce local provincial subsidies to no more than 30 percent this year, down from the 40 percent ceiling imposed in 2019.»

Only full block trains qualify for subsidies, an area that is being reviewed as China reforms its rail network. Empty containers are not permitted on trains leaving China, and each departure terminal has a different subsidy deal with the municipal, provincial, or national government.

«The end of subsidies has always been a moving target with China due to the three-tier structure of city, province, country,» Wheeler said.