Interest spiked in overland logistics from the moment the Ever Given hit the banks of the Suez Canal on 23 March. Rather than sending consignments to east coast ports in China, forwarders immediately looked in the other direction, seeking to put boxes on trains heading west. Yet even with the significant investment in the Chinese Belt and Road Initiative, finding capacity on the overland routes has been a challenge. What has the blockage taught the industry at large and what are the long-term implications for the New Silk Road? Will this be the wake up call that rail has been waiting for?
Silk Road viable alternative
The industry was not slow to respond to the loss of the Suez Canal route on 23 March. «There was a lot of interest right away», says Bremen based Ziwei Liu of the New Silk Road Network (NSRN), a commercial representation of freight forwarders and independent logistics companies in Europe and Asia.
«Trade partners right across Europe, the Middle East and Asia were quick to realise how disruptive the blockage could be. There was a sharp rise in enquiries and promotions as soon as the extent of the problem was identified. For goods with any sort of time-critical delivery and price sensitivity, rail by any of the New Silk Road routes became the most feasible solution and alternative, ahead of air and road freight.»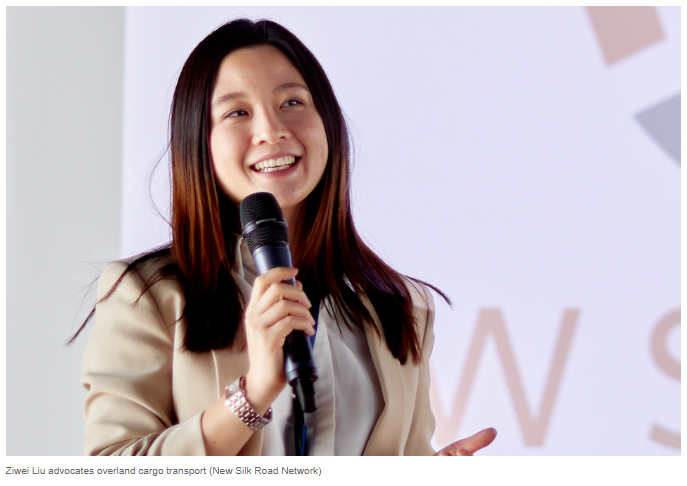 Rail freight time to react
Industry observers say that world trade will not immediately recover. «Around 12 per cent of all world trade passes through the Suez Canal, and a high proportion of that is between Asia and Europe», says Liu of NSRN. «The ripple effect of delayed and diverted shipping will take months to play out. That gives rail time to react. There is an incentive for traders to switch consignments to rail, and there is an incentive for operators to tie-in new customers. If the industry delivers a good experience for customers, then that will encourage a long-term switch, and it will likely provide new permanent business for overland operations. However, the question remains, can they provide a good experience or not?»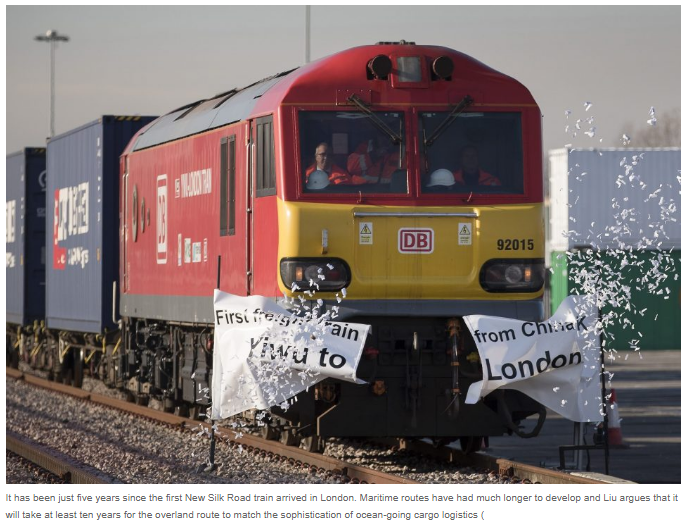 Liu concedes that it is not a simple matter of switch from established maritime routes to Silk Road freight trains. «While there are pressures to make international traders consider rail, there are other factors to consider», she says. «Navigating the open seas may have challenges, but national borders, gauge switches and border congestions are not among them.
«Overland is a different matter. The push of Ever Given may have encouraged many to look towards rail freight, but it does not necessarily mean that they all have the capability to move by train. Shanghai to Southampton by sea, for example, is an established and understood operation. Something like Kazakhstan to Austria by land is much more challenging. It is still less than five years since the first train ran from Yiwu to London and that took a lot of effort to make it happen. I estimate it may take another ten years of development and international co-operation to make Silk Road consignments as easy as maritime shipments.»
Ever-lasting change but maritime here to stay
Ten years may seem a long time, but it is also nearing the date that many nations have already set for greening their economies and making them zero-carbon emissions. It seems unlikely that shipping will be able to meet that environmental target, and may rely on ever-larger ships like the Ever Given to close the carbon gap. Legislation will likely play a part too, but Egypt and the Suez Canal Authority did not spend 8.2 billion US dollars on expansion without the belief that world trade will depend on the route for many years to come.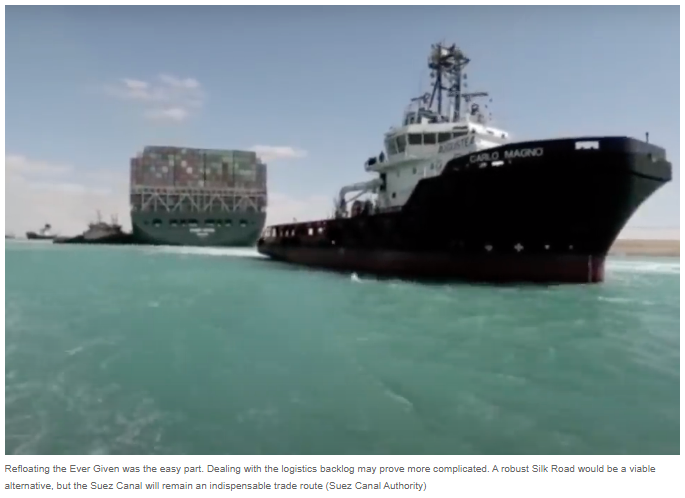 Politics, trade and ideology have always been intertwined. A thousand years ago, Genghis Khan was sweeping across the Middle East and Europe. The heraldic knights who faced him wore Chinese silks beneath their armour. Those silks were woven by the womenfolk of the invincible army they faced, and they were traded along the same routes that today's New Silk Road trains travel. How far might Khan's caravan train have advanced, had his conquests not ran aground as catastrophically as the Ever Given. Least we forget, his army was thwarted by something familiar to us all today: a pandemic.