Among the three major alliances, it reports that there is a significant variance in blank sailing rates, with «certain carriers like HMM skipping ports more often than not, with an average rate of 67%» in the period under analysis: from 26 April to 13 June.
On the other end of the spectrum, CMA CGM posted a 20% average blank sailing rate for the same period, leading Ocean Alliance to achieve the best schedule reliability, in terms of blank sailings.
For the 2M alliance, both Maersk and MSC posted a weekly blank sailing average of 45%, earning the lowest overall performance for any of the major alliances, project44 reported.
It noted that carriers, for their part, «are contending with a number of impediments to schedule integrity, with port congestion distorting sailing schedules as ships wait to unload. On the US West Coast, dwell times in April 2021, measured from vessel arrival until container gate-out, were lasting over a week.»
But with the figures distorted somewhat by lines attempts to recover from the blockage to the Suez Canal from late March, «one bright spot for shippers is a general reduction in blank sailing rates as schedules move closer towards late June», project44 noted. «In addition to CMA CGM, which has a 4% blank sailing rate for the week 06/07-06/13, Evergreen's rate for the same time period is 13%, and OOCL's is 12%».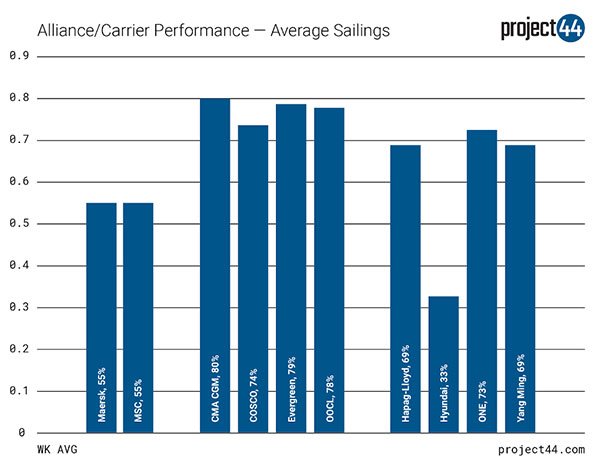 With «maxed-out vessels skipping more ports», project44 is warning shippers «to adopt proactive supply chain strategies that anticipate delays», adding. «With more assets and cash tied up in transport, project44 advises shippers to prioritize visibility and take steps to head off supply chain breakdowns.»
Josh Brazil, VP for ocean markets at project44, commented: «Not only do blank sailings reduce the number of containers that shippers want to ship out from the affected ports, but they also disproportionately affect lower-paying shippers, with carriers favouring cargo from higher-paying customers. This dynamic could drive up shipping prices further, as competition heats up for limited preferential space on ships.»
With project44's involvement in the ocean freight visibility market, not surprisingly Brazil highlighted the benefits of such visibility for supply chain planning within such a volatile operational environment, noting: «The challenges that shippers face simply underscore the importance of visibility. Aside from paying higher fees, there's not much we can do to speed up a container once it's on its way; but with real-time visibility and predictability, shippers can proactively manage their supply chain and mitigate the worst effects of rising blank sailings.»