France and Spain are attractive places for a study in the context of the development of rail freight within the West - East corridor due to their wide industrial base and rapidly developing railway infrastructure. Countries have a favorable geographical location and access to the sea, which allows them to combine and develop both multimodal transport, with the participation of rail transport, and other types of transport separately.
The COVID-19 pandemic affected the economies of both countries causing a drop in output. First of all, the automotive industry of France and Spain suffered. However, countries have yet to pass the lower point of recession in Q2 2020, and the consequences for France will be more tangible, as the country has already faced a new crisis with some domestic economic problems.
At this stage, France exports to China electrical equipment, electrical equipment for electrical circuits, flat steel, malt extract, tires and pneumatic rubber tires, etc. by rail. An analysis of the commodity structure of France's exports to China and China's imports showed that France has the potential in such goods as looms, sculpting pastes, film, flour, canned fruit and nuts, tissue paper, melons, etc. However, France also has the potential that needs to be disclosed by increasing the very volume of exports of already transported goods. This may be facilitated by the implementation of plans for the modernization of railway infrastructure in 2020. In particular, lines connecting industrial regions with the existing transport lines will be built and modernized in the country.
Spain, unlike France, has a stable established communication with China, primarily along the route Yiwu¾ Madrid, which acquired strategic importance during the pandemic of the novel coronavirus infection, as it ensured transportation of personal protective equipment and medicines that were subsequently distributed all over Europe. Spain's export potential is based on products such as panels, tiles, blocks of plant fiber; rubber chambers; pressed wood; railway cars; malt, etc. It should be noted that these are mainly not high-tech products, which makes it inappropriate to send these goods to China by means of transport with high transportation tariffs. Currently, the products railways transport to China include mainly tires, parts of motor vehicles; centrifuges and equipment for cleaning liquids or gases; processed cattle hide and leather, etc.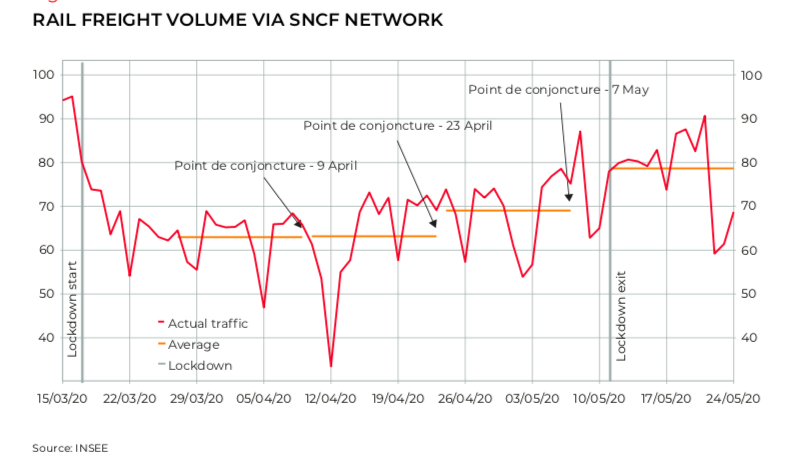 Spain has a high-speed rail internal network and a large number of border crossings with neighboring countries. The country is a link in the trade between Europe and Africa, Europe and America. Due to the high frequency of railway lines and large trading ports, Spain can develop both multimodal transportation and railway transportation with the participation of other countries, via France, Germany, Poland, Italy, etc.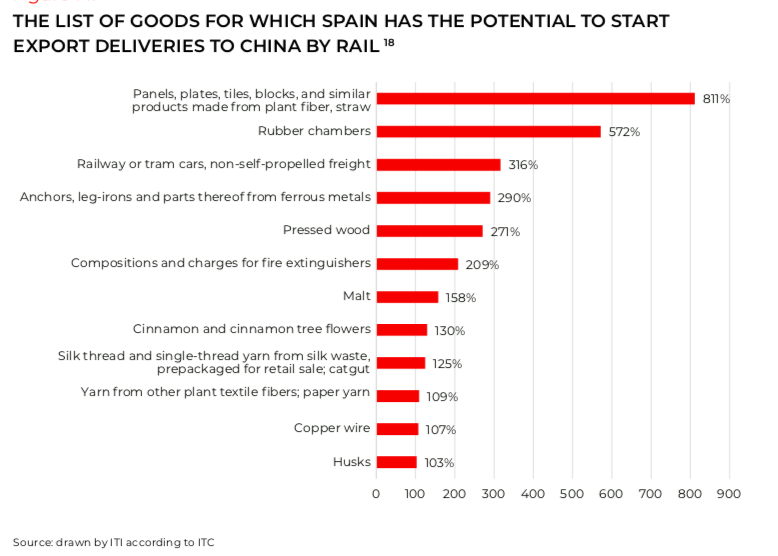 Thus, France and Spain have rich export potential in the context of trade with China, which can be disclosed by starting the supply of certain goods, as well as expanding the volume of already exported goods. In turn, shippers, manufacturers and countries as a whole can increase exports to China through diversification of supply chains, in particular the transition to rail transport.