The analytical review consists of three main sections, which include the technical capabilities and key features of the Kaliningrad transport and logistics hub, the role of the Kaliningrad transport and logistics hub in the development of the rail freight and multimodal transport between Europe and China.
Transport and logistics features of the Kaliningrad region are due to the technical possibilities of the following key sites of the transport infrastructure of the region:
TLC Kaliningrad;
TLC Chernyakhovsk;
two checkpoints on the border with Lithuania (Kybartai — Chernyshevskoe and Pagegiai — Sovetsk);
two checkpoints on the border with Poland (Mamonovo — Braniewo and Zheleznodorozhny — Skandawa);
Kaliningrad warm-water port;
linear infrastructure with total length in use of 963 km , combining railways with different gauge (1,520 mm and 1,435 mm).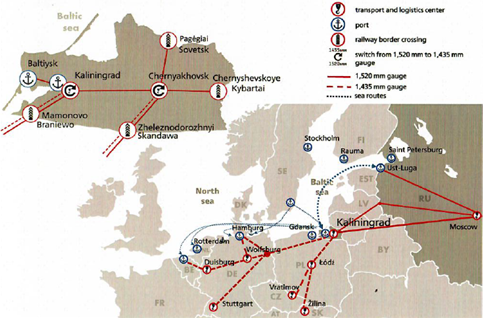 The Kaliningrad region has a developed transport and logistics infrastructure that provides the region with significant potential in the field of transit railway and multimodal transportation. The potential for handling containerized cargo in Kaliningrad is 450 thousand TEU per year, and the volume of actually processed containerized cargo in 2018 amounted to 150 thou. TEU.
Availability of a railway track gauge of 1,520 and 1,435 mm, continuous improvement of technologies and services, as well as a low load of terminal capacities, can significantly reduce the time for railway transport of goods in the Europe — Asia direction. The connection of the railway infrastructure with the warm-water port in the Baltic Sea, located in the vicinity of the largest seaports of Northern Europe, opens wide possibilities for using multimodal transportation for transporting goods in any direction.
However, the potential of the Kaliningrad transport and logistics hub can be used not only to organize transit rail and multimodal transportation, but also to realize the export potential of the region, as well as to accumulate cargo from all over Europe.