Bogdanov presented the terminal plans at the RailFreight Summit in Lodz, Poland last week. «This is the ideal place to announce the plans, as obviously, many opportunities lie in the Central and Eastern European region», he said. «It is a true border terminal, and Poland is a huge trading partner of Ukraine. A lot of traffic is moving in this direction, but also to Duisburg, the Benelux or other parts of Europe.»
Who is N'Unit?
But let's get to know N'Unit first. The company as a legal entity is relatively young. This weekend, it is celebrating its first anniversary. It is a private, Ukrainian company, which is setting up a network of terminals in Ukraine. Four of these terminals are their own. «You know that things will be working well if there is private investment involved», Bogdanov said.
Its main focus is on Kyiv, capital of the country and the most populous city. It established two terminals there. Another two are in the east of the country: in Kharkiv and Dnipro. Each has its own function and strength, depending on local industries and customers. «Kyiv is the consolidation point of all import traffic and wood export. Dnipro sees steel products and a lot of heavy machinery. Kharkiv is balanced with industrial import and agricultural export.»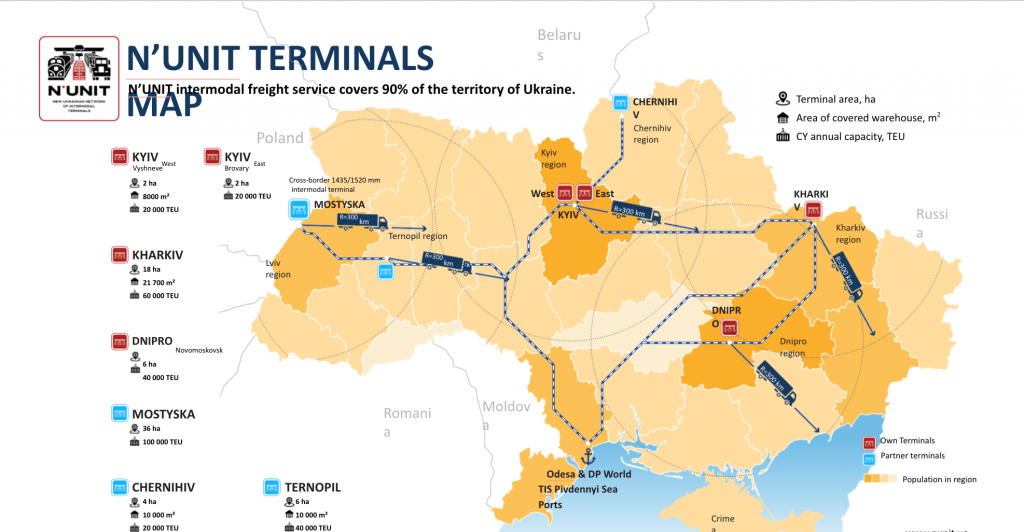 Terminal network of N'Unit
Mostyska
«Mostyska is a key partnership project with Lemtrans company. The terminal is the first private full-scale terminal on the border», he told the international audience. «With this terminal we want to extend to the CEE region.» It is expected to open by the end of this year or January 2022. «This will be for the first phase, the running of trains. In the second phase, we will focus on warehousing, and in the third phase we will start providing services such as reloading, packaging and other things that dryports do.»
One of the main advantages is that it offers broad gauge and standard gauge, so that it is able to reload traffic moving between the east and the west. «We are certainly also looking at traffic between China and Europe», he said. «We would like to be an alternative gateway on the New Silk Road. We want to encourage transit traffic through Ukraine together with huge turnover between Ukraine and the EU. A total of 100 thousand TEUs annual capacity is expected in the first stage.»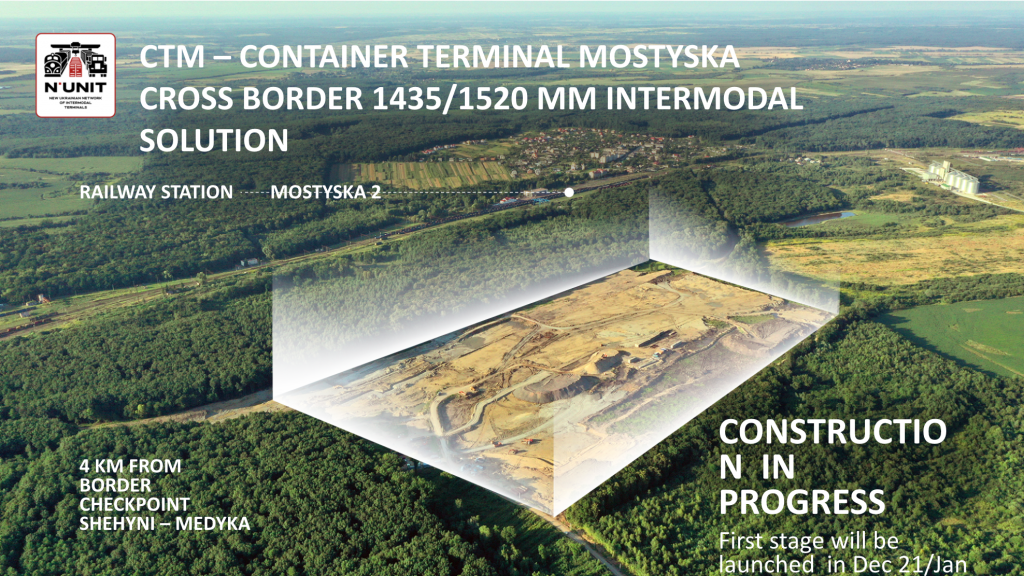 Container terminal Mostyska
'Ukraine is politically stable'
According to the Ukrainian, this transit route is a very attractive alternative. Despite the assumption that Ukraine is unstable, there is a lot of traffic moving through the country without any problems, he explained.
Bogdanov speaks from experience. His company may be a young one as a legal unit, the team has been active in the rail freight industry for many years. «Our first business was a blocktrain to TIS Container Terminal, port Pivdennyy in 2017. Today, we operate ten trains a week to the Ukrainian sea ports, where 90% of large shipping liners are eager to take or drop the cargo. In addition, we operate three regular blocktrains to the Lithuanian port of Klapeida, with a transit time of 50 hours.
«But then, we started investing in terminals», he said. «This was a natural development on the one hand. On the other hand, the existing infrastructure in Ukraine is unfortunately not meeting the level required.»
RailFreight Summit Poland 2021
The RailFreight Summit Poland 2021 was held in Lodz on 1 & 2 September. The New Silk Road was the topic of the last session of the summit, where many other topics were discussed. Over the next few days, you can find several reports of this event on RailFreight.com.
Do you want to attend our next event? On 7 & 8 December the European Silk Road Summit takes place, in Amsterdam, the Netherlands. On this website you can keep yourself informed.